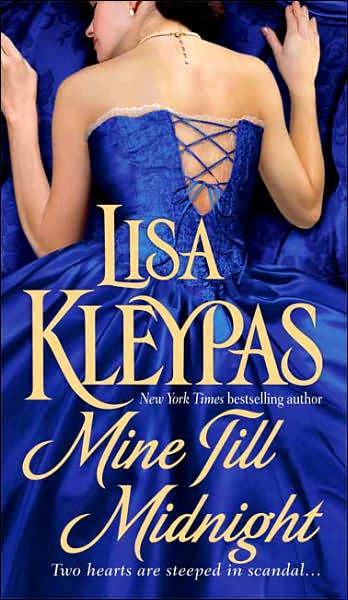 Listened to the audio narrated by Rosalyn Landor.
This is the first novel in a regency romance series focused on the Hathaway family.

This series is somewhat loosely paired with Kleypas' popular Wallflowers series (i.e. characters and couples from that series make limited appearances in these novels) and in fact the male protagonist of this story, Cam Rohan, was introduced in "Devil In Winter".
In this initial book the Hathaways are introduced as a close but rather luckless family who are in upheaval.

The parents have died, leaving 4 daughters, a son and a gypsy foster son/family factotum to fend for themselves.

Shortly after the parent's death, their family and community was struck with scarlet fever which killed the son Leo's fiancé and he has since become unglued.

In addition, through a remote relative, Leo has inherited a Viscountcy which has given him further license to rabble rouse and live a life of dissipation as he tries to drown his grief.

This is where the book starts; Leo has been missing for a few days and the eldest female sibling, Amelia is out with Merripen, the gypsy foster brother searching for Leo.

The search takes them to the gambling establishment where Cam Rohan works and thus our romance begins.
Amelia is what we would call in modern times "a control freak".

As the oldest sister, she feels a great responsibility to manage and take care of her family. At 26 she has embraced her spinsterhood because she is afraid that a husband would take away her independence and ability to manage things as she sees fit.

She's uptight, proper, headstrong, and wants at all times to be in control of the situation, of herself, and of her family.

She refuses to admit that she needs help handling anything and will not indulge herself or allow herself a moment of weakness.

Amelia is definitely not the most likeable of the Hathaway family but I for one very much identified with her which kept me tolerant when she was acting particularly obnoxious.
Cam Rohan is half Gypsy/half Irish and has worked at Jenner's, a very upscale gambling club in London, since he was a boy.

He was dropped off there by his tribe as a boy and told that he was in danger; that they would come back for him when the danger is passed, but he hasn't seen his tribe since.

Despite his many years in "gadjo" (the gypsy word for white folk) society he still embraces many of his Romany beliefs and traditions.

He's highly intelligent, and capable, laid-back and calm.

He takes the world as it comes and trusts himself to handle anything that can be thrown at him.

His years at the gambling club have made him exceptionally worldly and an excellent fighter.

Amelia isn't the sort of Lady he'd normally be attracted to but as these things often go in romance novel land, there is just something about her that gets under his skin.
As mentioned, the initial part of the book takes place in London but the action quickly moves to the rural Hampshire estate the family inherited along with the title of Lord Ramsey.

The estate has not been occupied for many years, and the house and lands are barely habitable.

In a romance novel twist of fate Cam happens to be visiting with the next door neighbors and after encountering Amelia a couple of times, decides they must be together and sets about wooing her in the Romany way…i.e. there is a lot of sex and compromising of her virtue and making himself indispensable with all the crazy shit going down with the Hathaway family. To wit, the crazy shot going down with the Hathaway family:

1)Winnifred, sister #2 is an invalid after barely living through the scarlet fever and she 2)is yearned for (and possibly yearns back) by their Romany foster brother Merripen who 3) is burned badly and almost dies after 4)Leo, who in a gothic turn of events is being haunted by his dead fiancé, almost burns the entire house down in a drunken, supernatural stupor/rage.

Oh and Kleptomania makes an appearance.

I.E. it's enough to make any control freak, lose their ever-living mind.
As may be apparent, this book has a lot going on and it's pretty overwrought.

I think Kleypas, in part, tries to embrace the gothic novels of the time and it was interesting but not sure how well it worked.

Thankfully, Kleypas has a really great sense of humor and can really create romantic tension without taking itself too seriously so It didn't feel like it got too overwrought.

Cam is likeable but having read on in the series, I didn't like him as much in this book as I do in the later books in the series – apparently he fits better as a secondary character and in later books you can really appreciate what a great addition to the Hathaway clan he is and what a well-suited couple he and Amelia are.
I liked the book and burned through it pretty quickly.

As I mentioned I can identify with Amelia in many respects so I enjoyed her as a heroine even despite some of the silly choices she makes. This is a good start to a new series and I think I may have enjoyed it more than some of the Wallflowers books.

I have continued along into the rest of the series because my favorite of the Hathaways is Beatrix, the youngest sister, whose book is number five.
A final comment on the narrator.

Rosalyn Landor is the narrator who I recently indicated I did not like when I listened to her reading of Mary Balogh's Simply Love.

She is obviously a favorite for reading regency era romances but

I am personally not crazy about her, particularly for how she reads the men.

However, I tolerated her much better with this book, I think because I liked the book better and it didn't have the florid language the Mary Balogh book had.

Anyway, she is not my favorite narrator but tolerable for this book.